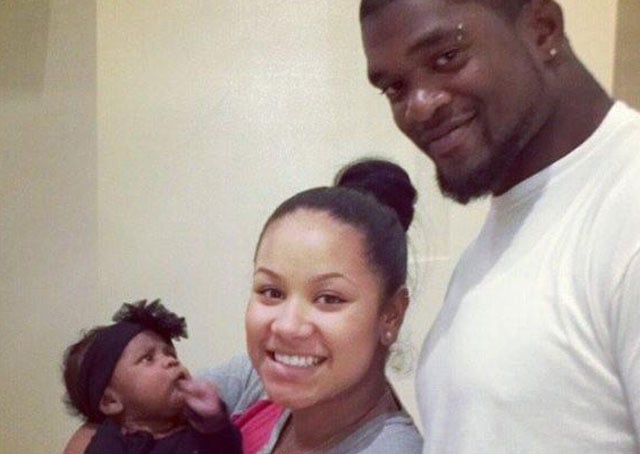 Belcher and Perkins, and Baby Zoey (photo courtesy KCTV)
KANSAS CITY - On Monday, officials released the autopsy reports surrounding the murder suicide of Kasandra Perkins and Kansas City linebacker Jovan Belcher.
The Jackson County Medical Examiner said first, in the
released reports
, that Belcher shot Perkins nine times. The troubled NFL star shot his girlfriend/mother of his child in the neck, chest, abdomen, hip, back, leg and hand. The hand wound was the only one considered to be done at close range. Bullets perforated her liver, kidney, and spleen and struck and traveled through parts of her backbone.
In a not-so-surprising twist, Belcher was also declared legally intoxicated at the time of the shooting. According to the
Kansas City Star
, the results show Belcher's blood-alcohol level was .17 when he died, which is more than twice the legal driving limit in Kansas. Belcher died from a single gunshot would to his right temple,
according to the report
.
The report also shows both Perkins and Belcher tested negative for illegal drugs.
Here are the early returns:
The police report officially says Belcher shot Perkins at her home on December 1, and then drove to Arrowhead Stadium - where Belcher shot and killed himself in front of GM Scott Pioli, head coach Romeo Crennel, and defensive coordinator Gary Gibbs.
Police also released the fact that Belcher threatened to shoot Perkins earlier in 2012. His daughter, Zoey, born in September 2012, and is currently in the custody of Perkins' mother. However, Belcher's family has now entered into a legal fight for custody of Zoey. A Fort Worth judge has scheduled a Jan. 22 hearing in the custody lawsuit.