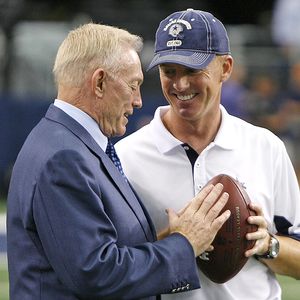 Jones (left) and Garrett (Photo courtesy ESPN)
VALLEY RANCH - The circus that is the Dallas Cowboys continues to enjoy the 3-ring spotlight.
ESPN's Chris Mortensen is reporting that Dallas Cowboys' owner Jerry Jones is putting a lot of pressure on head coach Jason Garrett. After the firing of defensive coordinator Rob Ryan and the hiring of 4-3 Monte Kiffin, Jones now wants Garrett to relinquish all play calling duties on the Cowboy sideline.
To top that, word out of Valley Ranch is that Jones also wants Garrett to fire his brother - tight ends coach John Garrett.
PFT's Mike Florio
has an interesting take on this situation
, thinking Jones is wanting to make Garrett so uncomfortable so that he leaves on his own so Jones doesn't have to fire him. He does have a point.
I think Jones is stuck with Garrett, because he hired his golden boy while undercutting Wade Phillips - leaving Garrett to be the heir apparent of America's Team. If Jones fires Garrett, the volatile owner will end up with egg on his face - even more than he normally has.
If Jones forces Garrett to fire his brother, and Jason refuses, then Jones can fire him for conduct unbecoming, etc. etc...apparently J.R. Ewing isn't a part of the only soap opera in Dallas...
Here's what I think. Jones is setting up Garrett to give up all play-calling duties (which wouldn't be a bad thing), and Jones will hire a former/future head coach in waiting as offensive coordinator.
Either way, Garrett's on the way out - whether it's his call or not.